For some businesses it can be comparatively quick and easy to give a quotation for work such as those which are simply based upon building size, site area or number of trees, however, here at Eldnar Consultancy and The Equestrian Planning Consultancy, each of our fee quotations involve looking into the detail of every enquiry we receive.
Before we come back to you with a quotation, we will require as much information as possible as to  what you are trying to achieve, to be able to advise you accordingly.  This is to ensure that we are both the right people to help you, but also to ensure that we can add value and assist you appropriately.  As a part of this we have a phased, 6-Step Instruction Process, so that you, our customers, are in control every step of the way as well as allowing us to support you with a consistent, high quality and transparent process.
Step 1 – Fee Quote
You simply supply us with all the basic information i.e., who needs it, a site address or location, along with what you want to achieve.  Based on this information we will produce a fee quote outlining the work required and the costs involved along with our General Terms of Business.
Step 2 – Check Fee Quote
This is your opportunity to check that we have understood what you want to achieve and that the fee quote reflects the work you wish us to do and consider what our current lead-in times are in relation to whether you wish to pay for any upgrades.  If this is correct, you simply fill in your name, address and contact details, sign, and date it and return it to us.
Step 3 – Sign and Return
The fee quote document can then be returned to us by scan or photograph.  Don't worry if you don't have a printer, we can also email it to you via an online electronic signature service, DocuSign, which allows you to fill in the necessary details, digitally sign and return at the push of a button.
Step 4 – 50% Deposit Invoice
Once we've received your signed fee quote form back, Annette will then open your file and set you up on our system.  For most types of work*, we will split the total amount to be paid into two invoices.  The first is a 50% deposit.  This is required to schedule your work into our diaries based upon lead in times and/or the options you have selected.  Once you have paid this invoice, this will trigger your work to be added to our current work schedule and your spot is confirmed.
Please note, we are unable to add your work to our schedule until the deposit invoice has been paid.  You, our customer, are in control here.
Step 5 – 50% Final Invoice
Upon completion of your work (e.g. planning permission is ready to be submitted), we will then generate our final invoice for the remaining 50% of our fee and send it out for payment.
Please note, we are unable to release or submit your work until this final invoice has been paid.
*For valuations we will forward a draft copy of the report to you along with our invoice for the full amount.
Step 6 – Work Submitted/Released
Once we have received your payment, we will release and/or submit your work within 24 hours.
Any ongoing work agreed on an hourly basis will be invoiced at the end of each month.
For ease, we have created this Infographic, just so you know, where you are in the process and what will happen next.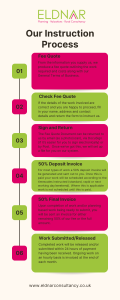 We hope this helps you understand the process we take to ensure that your work is completed to the best standards and are completed to your timescales.  By following this structure we are able to accurately schedule work, with appropriate time set aside to complete the instruction to a high standard, which gives you confidence and timescales which you can rely upon.